Thanksgiving has always been our "thing."  I wrote a blog post quite a few years back that perfectly describes my sentiments surrounding Thanksgiving (click here).  I could say that going into Thanksgiving this year was no different, but that wouldn't really be the truth.  My grandparents made our Thanksgiving into what it is… a weekend packed with quality family time.  A weekend full of love and acceptance.  A weekend full of happiness that only spread as our family grew.  And then last year, my Gram passed away (click here).
Going into Thanksgiving this year came with a lot of emotions.   A lot.  Of course happiness was one of them- it just melts my heart to see the pure joy and excitement that my kids have going into the holiday.  It reminds me of my own childhood and how I couldn't sleep for days leading up to the weekend.   But it also came with some sadness.   For this was the first time that we gathered as a large family since Gram's funeral.  And the last time that we gathered as a family in my grandparents home.  If you are still with me, gear up because this might be my most picture heavy post ever, but it was extremely important to me to capture these memories (and I can't take all of the photo credit because my incredibly talented sister/photographer took plenty of these images too!)

There was nothing that gave Gram more joy than watching her great-grandchildren play together, and grow from teeny people to slightly bigger people.   Watching the cousins together gives me the same joy.
You still with me?  I'm not even close to done!  Celebrating my nephews birthday was definitely one of the highlights of the weekend.  Oh my gosh, there is just something hilarious about kids with a pinata.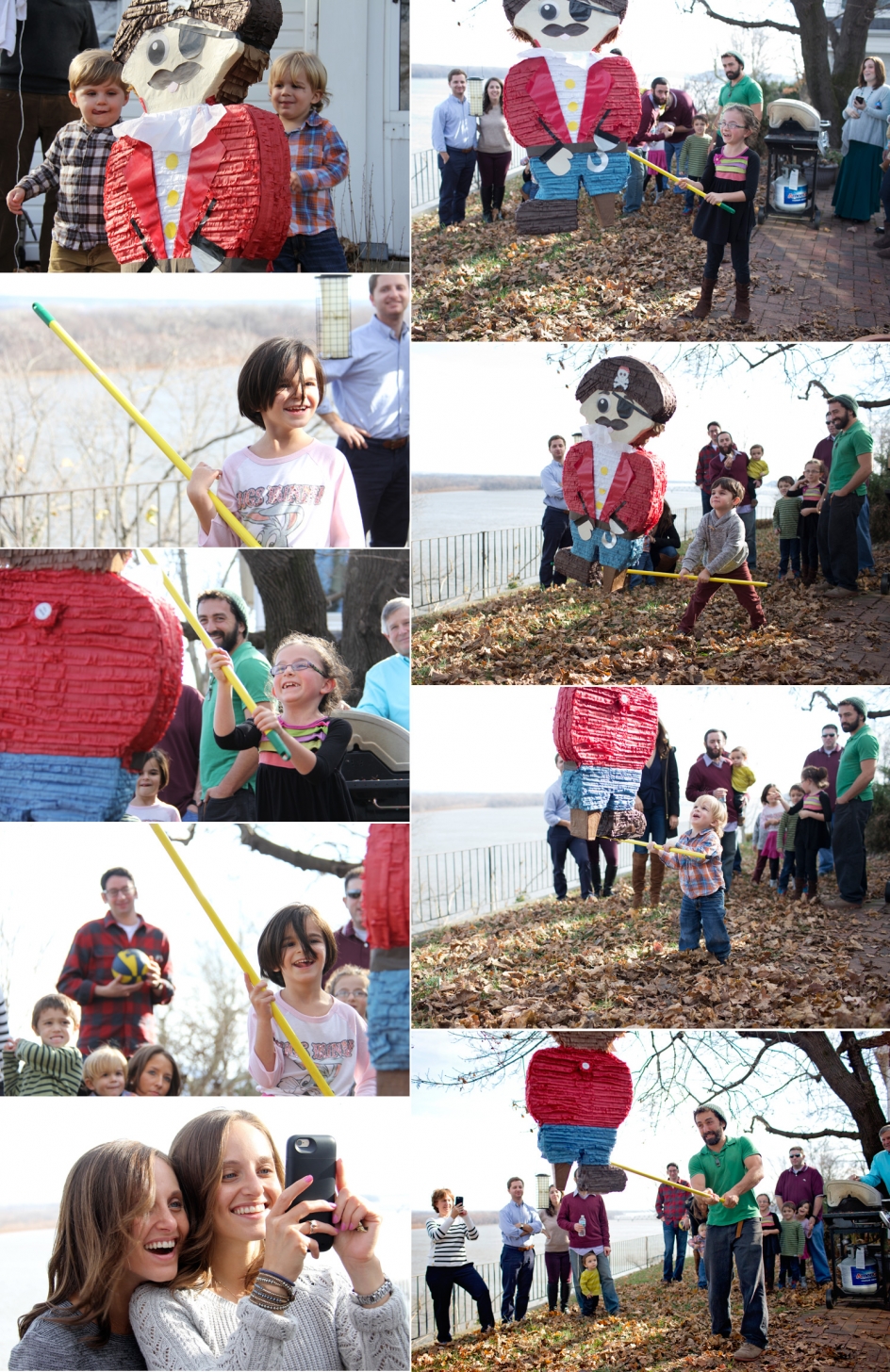 Ok, tell me that pic on the bottom right is not hilarious.  I mean, my cousin took this pinata bit pretty seriously.  His face makes me crack up every time I see that picture.
As much as we missed Gram this year, we also had SO many good laughs.  If you haven't checked out the app called "Dubsmash" yet, it's an absolute must.  We (as in the adults- once the kids went to sleep) spent HOURS making ourselves laugh.  And no cousins, don't worry… I would never post them and embarrass you (anyone who wants to see, feel free to send me an email and I will send them along… shhh, don't tell!)
Below you will see our token full group family shot and the cousin line-up.  I always say it, but someday I need to post the entire collection of them… we have been doing these since we were little kids!
So, after we took these outdoor images, a few of my cousins and I sat outside as it got dark.  We sat in the grass, in the backyard, enjoying the quiet and taking in the view.  The backyard overlooks the Mississippi River and as we sat, we shared memories of growing up in the house, and watching eagles fly over the river.  Suddenly, I glanced up and the following image is what I saw.  Believe what you like, but it sure looks like an angel to me 🙂  Hi, Gram.
Ok, if you are still with me, you've made it to the end (almost).  Every year, for the past few years, we have done a family music video.  These are some complete gems, and you know I love you all because I'm actually willing to post them and completely embarrass myself (and the rest of my family!) 😉  This one is dedicated to Gram… who danced every chance she could and instilled the love of dance in the rest of us too!  Some of the images from the dances are down below, here is the link to the video: 
https://www.youtube.com/watch?v=ZigvYx8sx6A 
Enjoy!
And with that, I sign off!  Goodnight everyone!