Ok, so I am not ready… you probably are not ready, but it's coming, and it's not that far off.
I feel kind of bad posting these sessions because I was actually ANGRY when I saw the back to school display at Target the other day.
However, I have waited long enough and the truth is I am SUPER excited about these sessions.  So, let's get you scheduled and then you can ignore the back to school reality for another month!
CLICK HERE when you are ready to reserve your session date and time.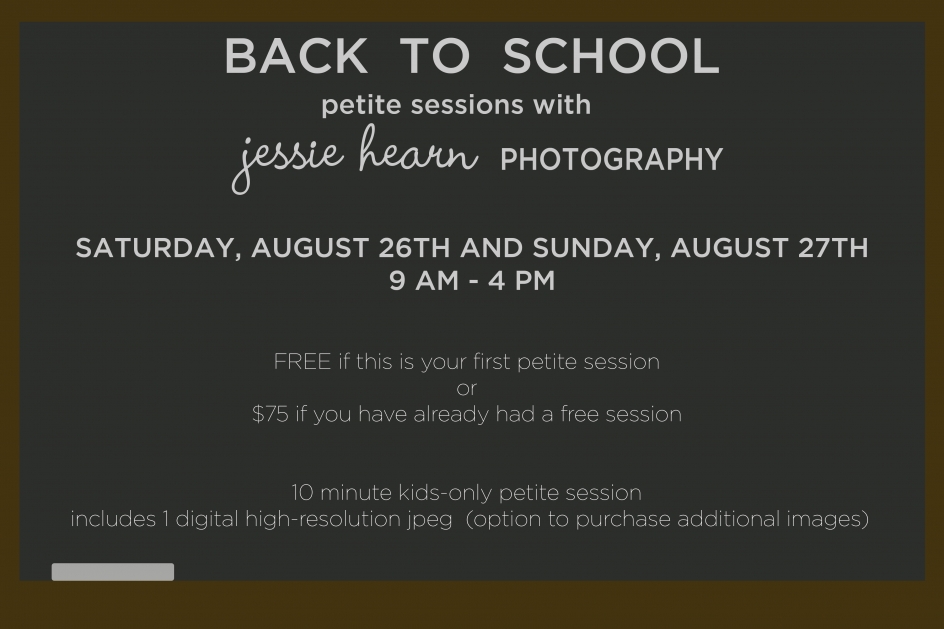 Let me answer some of your questions here:
Q:  Where will this event be?
A:  At my in-home studio in northwest Evanston.  Address and directions will be sent when you book your session.
Q:  What should I expect from my session?
A:  Session will last 10 minutes.  There will be a back-to-school set ("chalkboard", desk, globe, books, etc) as well as a wood backdrop.  The back-to-school set will be ideal for school-aged children and the wood backdrop can be for sibling shots, as well as the little ones!  You will get a gallery of at least 5-6 awesome images of your kiddo(s) to choose from.
Q: Can I combine my session with my friend, cousin, sister, or neighbor?
A:  Nope, these sessions are for your own kids only.  These are not family sessions.  However, if you would like to book a family session, I would love to work with you and am happy to arrange that with you!
Q:  How much does this session cost?   
A:  If you have never had a free petite session with me before, this session is FREE.  If you have already enjoyed a free petite session and just can't resist signing up for another one, this session is just $75.  AND, there is 1 digital high-resolution image included with your session.
Q:  Is there a way to get more images?
A:  Absolutely!  If you share this post on your Facebook wall (and let me know that you shared it), you will get an additional jpeg included with your package.  You will also have the option to purchase additional images after your session.
Any more questions?  Feel free to email me at jessiehearnphotography@gmail.com!    Can't wait to photograph your smiling faces!
Did you miss the link to book your session?
No problem!  JUST CLICK HERE TO BOOK NOW!